Harvard Club Brownbagger
Google's Lessons for Hawaii
Bring your friends and join us on Thursday, Oct. 19th for an intriguing subject. Maile League member and tech pilgrim Ray Tsuchiyama will talk about "What I Learned While Working at Google...as Lessons for Hawaii".

Ray Tsuchiyama left Hawaii for Tokyo in 1991 and returned to Hawaii after the Great Japan Earthquake in 2011. He's had roles at MIT, Analog Devices (semiconductors), and Internet/mobile telecoms (AOL Time Warner). His most unusual experiences were at Google.


Ray will give insights into Google hiring, product development, and teamwork/collaboration. Google was the most successful of recent upstart firms, like Airbnb, Uber, and Facebook — in doing what is called visioning the future. Ray will also discuss innovation in Hawaii; for example the 1960s Waikiki business model launched by entrepreneur Chinn Ho, and the significant innovations of King David Kalakaua, cut short by the 1893 Overthrow. According to Ray, "There are absolutely lessons for Hawaii from Google, in research, innovation, and global products; yet there are also lessons from Hawaii's past and at UH — in our own back yard.

Hope you'll make it. If so, don't forget to RSVP to me.

Date: Thursday, October 19, 2017

Time: Noon - 1:30 pm

Place: The Ohana Room at Architects Hawaii, Ltd, through the courtesy of Harvard Club member David Miller. It's on the 29th floor of the Makai Tower of Pacific Guardian Center, 733 Bishop Street.

Cost: FREE

Lunch: Bring your own sandwich, bento, beverage, etc.

RSVP by email to arkie@arkoehl.com

Arkie Koehl
VP, Activities
Harvard Club of Hawaii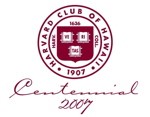 When:
12:00PM - 1:30PM Thu 19 Oct 2017 ( Timezone: Pacific/Honolulu )

Where:
The Ohana Room at Architects Hawaii, Ltd.
733 Bishop Street 29th floor
Honolulu, HI 96813 USA
[ Get Directions ]