Harvard Club J-Term Law Luncheon
Please join us once again for what has become an annual highlight: our brown bag lunch with the Frank Boas Visiting Harvard Law Professor during Richardson Law School's January Term ("J-Term"). The lunch will be at noon on Thursday, Jan. 11th. This year the luncheon will be in downtown Honolulu, rather than at the Law School, given parking difficulties at UH.

This year's visiting professor is Martha Minow, Dean of Harvard Law School from 2009 until her retirement this year. Current Harvard titles also include Distinguished Harvard University Service Professor; and Carter Professor of General Jurisprudence.

After completing her undergraduate studies at the University of Michigan, Minow received a master's degree in education from Harvard and her law degree from Yale. She clerked for Judge David Bazelon of the United States Court of Appeals for the D.C. Circuit and then for Justice Thurgood Marshall of the Supreme Court of the United States. She joined the Harvard Law faculty as an assistant professor in 1981, was promoted to professor in 1986, was named the William Henry Bloomberg Professor of Law in 2003, became the Jeremiah Smith Jr., Professor of Law in 2005, and and Dean in 2009.

Besides her many scholarly articles published in journals of law, history and philosophy, she has published over sixteen books. Her courses include civil procedure, constitutional law, family law, international criminal justice, jurisprudence, law and education, nonprofit organizations, and the public law workshop. An expert in human rights and advocacy for members of racial and religious minorities and for women, children, and persons with disabilities, she also writes and teaches about privatization, military justice, and ethnic and religious conflict.

We'd love to have you join us. And best wishes for a grand holiday season.

Date: Thursday, January 11th, 2018

Time: Noon - 1:30 pm

Place: The Ohana Room at Architects Hawaii, Ltd, through the courtesy of Harvard Club member David Miller. It's on the 29th floor of the Makai Tower of Pacific Guardian Center, 733 Bishop Street.

Cost: FREE

Lunch: Bring your own sandwich, bento, beverage, etc.

RSVP by email to arkie@arkoehl.com

Arkie Koehl
VP, Activities
Harvard Club of Hawaii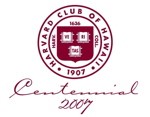 When:
12:00PM - 1:30PM Thu 11 Jan 2018 ( Timezone: Pacific/Honolulu )

Where:
The Ohana Room at Architects Hawaii, Ltd.
733 Bishop Street 29th floor
Honolulu, HI 96813 USA
[ Get Directions ]