Harvard Club Brownbagger — Power to the People
Under David's leadership, KIUC has been consistently ranked as one of the top utilities for solar integration in the country and has increased its renewable energy sourced generation from 8% to almost 50%. In March of 2017, KIUC drew international attention when the world's largest utility-scale solar-plus-battery facility, developed by Tesla, was unveiled. The Tesla solar field stores energy during the day and releases it during peak evening hours.

In early 2018, construction will begin on KIUC's second dispatchable solar project. In combination with the Tesla system, half of Kauai's evening peak energy needs will be supplied by energy generated from the sun.

David earned his bachelor's degree in accounting and finance from the state University of New York at Brockport, and his M.B.A. from the Kelley School of Business at Indiana University.

Bring your guests and come join us!
Date: Tuesday, February 13th, 2018

Time: Noon - 1:30 pm

Place: The Ohana Room at Architects Hawaii, Ltd, through the courtesy of Harvard Club member David Miller. It's on the 29th floor of the Makai Tower of Pacific Guardian Center, 733 Bishop Street.

Cost: FREE

Lunch: Bring your own sandwich, bento, beverage, etc.

RSVP by email to arkie@arkoehl.com

Arkie Koehl
VP, Activities
Harvard Club of Hawaii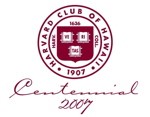 When:
12:00PM - 1:30PM Tue 13 Feb 2018 ( Timezone: Pacific/Honolulu )

Where:
The Ohana Room at Architects Hawaii, Ltd.
733 Bishop Street 29th floor
Honolulu, HI 96813 USA
[ Get Directions ]