Harvard Club Brownbagger — Finding Meaning in a Crazy World
Join us along with your guests for some pre-April 15th uplift. Kent Keith is an accomplished speaker whose mission is to "help people find personal meaning in a crazy world." He is best known for "The Paradoxical Commandments," which he published as a Harvard sophomore 50 years ago this month.

Kent was born in Brooklyn, NY and raised in Nebraska, California, Virginia, Rhode Island and Hawaii. He entered Harvard to study government. After graduating, he read philosophy and politics at Oxford as a Rhodes Scholar,[1] received his law degree at Richardson School of Law at the University of Hawaii at Manoa, and earned an Ed. D. from the Rossier School of Education at the University of Southern California.

His early career was as an attorney with Cades Schutte Fleming & Wright and then as Director of the State of Hawaii Department of Planning and Economic Development. He served as the President of Chaminade University from 1989-1995 and was then the Senior Vice President for the YMCA of Honolulu. From 2007 to 2012 he served as CEO of the Greenleaf Center for Servant Leadership (US), and from 2012 to 2015 he served as CEO of the Greenleaf Centre for Servant Leadership (Asia) based in Singapore. In 2015, he became president of Pacific Rim Christian University in Honoulu.

Hope you can make it!
Date: Thursday, April 13th, 2018

Time: Noon - 1:30 pm

Place: The Ohana Room at Architects Hawaii, Ltd, through the courtesy of Harvard Club member David Miller. It's on the 29th floor of the Makai Tower of Pacific Guardian Center, 733 Bishop Street.

Cost: FREE

Lunch: Bring your own sandwich, bento, beverage, etc.

RSVP by email to arkie@arkoehl.com

Arkie Koehl
VP, Activities
Harvard Club of Hawaii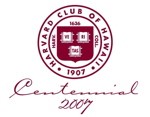 When:
12:00PM - 1:30PM Fri 13 Apr 2018 ( Timezone: Pacific/Honolulu )

Where:
The Ohana Room at Architects Hawaii, Ltd.
733 Bishop Street 29th floor
Honolulu, HI 96813 USA
[ Get Directions ]