Harvard Yale Game Joint Viewing with Yalies!

Hawaii Harvard Alums - THE CRIMSON NEEDS YOU!

Support our team with fellow alums at the JOINT Harvard Yale viewing Nov 17 at 6:45am - just in time for the 7:00am kickoff - at Buffalo Wild Wings 1778 Ala Moana Blvd in Waikiki. This year the Crimson takes on the Bulldogs at historic Fenway Park.

We were outnumbered by the Yalies at last year's joint viewing and WE LOST!! Causation? DON'T TAKE ANY CHANCES!!!

Please RSVP to veronicaharvardhawaii@gmail.com.

See you there!

Veronica Wang
Social Chair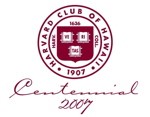 When:
Saturday, 11/17/18 at 6:45am | iCal
Where:
Buffalo Wild Wings
1778 Ala Moana Blvd
Honolulu, HI 96815 USA
[ Get Directions ]